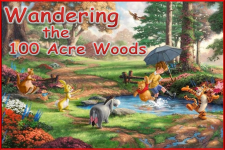 Wandering through the 100 Acre Woods
April 23, 2017 to June 11, 2017
Everybody loves Winnie the Pooh. Maybe one reason he is so lovable is all the characters have have flaws and problem. We can relate, not only on a physical and mental level, but on a spiritual one. We are going to use these charactes as a back drop to explore out spiritual life and how we can have a closer walk with God.